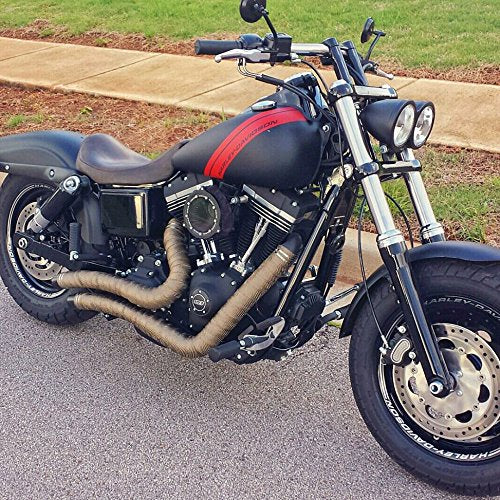 Exhaust Header Heat Wrap - APE Racing Basalt Lava Twill Weave Muffler Pipe Shield Tape Roll 2" x 50' For ATV Motorcycle Car UTV, Titanium Wraps with 8pcs Stainless Steel Zip Ties
2
sold in last
zuletzt verkauft
8
hours
Std
customers are viewing this product
Kunden betrachten dieses Produkt
✔️ADVANCED MATERIAL - APE Racing Exhaust Wrap is constructed from fragmentized fire retardant volcanic lava basalt that is extruded into the fibers that will give you the strength and performance you expect from an exhaust wrap. The result is a visually-appealing smooth and shiny finish that works to insulate and reflect extreme heat. When properly installed, the proprietary weave in our exhaust wrap will allow an even dissipation of heat to prevent pipes from overheating or creating hot spots.
✔️PERFORMANCE IMPROVEMENT - The benefits of wrapping exhaust systems with APE Racing Basalt Lava Exhaust Header Heat Wrap is hotter exhaust gases that exit the system faster through decreased density. Increased exhaust scavenging is produced, along with lower under hood (as much as 50 percent) and intake temperatures. Supports operating temperatures up to 1500°F with peak temperatures of 2000°F.
✔️TWILL WEAVE - In the twill weave each warp fiber passes alternately under and over each weft fiber. The fabric is symmetrical, with good stability and reasonable porosity. However, it is the most difficult of the weaves to drape, and the high level of fiber crimp imparts relatively low mechanical properties compared with the other weave styles. As you can see under the microscope zoom, is easy to recognize the twill weave by the stairs that are formed by the fabrics overlapping each other.
✔️DURABLE - APE Racing Basalt Lava Exhaust Header Heat Wrap is chemical and oil resistant that will not shrink or loose flexibility under extreme conditions. It is 25% stronger and provides a 300°F increase in temperature protection over fiberglass exhaust wrap. The product is very rugged, easy to install with minimal snagging, and will not exhibit any vibration damage over long periods of use.
✔️INCLUDES - 1 roll of Exhaust Header Heat Wrap, 8pcs of 304 stainless steel zip tie, 1 pair of operation gloves and 1 installation instruction. Shipped in APE RACING retail packaging.
Details:
APE RACING Exhaust Header Heat Wrap is made of Basalt Lava with Twill Weave knit for higher performance. What is Basalt Lava? Basalt is a type of igneous rock formed by the rapid cooling of lava at the surface of a planet. It is the most common rock in the Earth's crust. Basalt rock characteristics vary from the source of lava, cooling rate, and historical exposure to the elements. High quality fibers are made from basalt deposits with uniform chemical makeup. What is the different between Basalt Lava Fiber wtih Fiberglass? It has a similar chemical composition as glass fiber but has better strength characteristics, and unlike most glass fibers is highly resistant to alkaline, acidic and salt attack making it a good candidate for concrete, bridge and shoreline structures. What is Twill Weave? A twill weave is a basic weave characterized by a diagonal rib, or twill line. Each end floats over at least two or more consecutive picks enabling a greater number of yarns per unit area than a plain weave, while not losing a great deal of fabric stability. This type of fabric looks different on one side than on the other.
We offer free standard shipping to 48 contiguous states, Canada and EU. Charged shipping to AK, HI, PR and APO if inventory allows. Charged fast shipping available for 48 contiguous states if inventory allows.
We have a 30-day return policy, which means you have 30 days after receiving your item to request a return.
We currently accept orders to Australia, Austria, Belgium, Bulgaria, Canada, Cyprus, Czech Republic, Denmark, Estonia, Finland, France, Germany, Greece, Holland, Hungary, Italy, Latvia, Lithuania, Luxembourg, Malta, Netherlands, New Zealand, Poland, Portugal, Republic of Ireland, Romania, Slovakia, Slovenia, Spain, Sweden and United Kingdom (Great Britain) on our website. To place an order to any other international address please contact us to place your order.
Normally we don't provide support during weekends, except for urgent cases. In these cases, you only need to mark "Urgent" in your email, we will get back to you ASAP.
We have warehouses in Canada, US and China, so they depend on the stock of different warehouses. Normally it will be delivered in 5-21 days. If you still haven't received the package after that time, please contact us to track it.
The expected in stock date on the product's info page is when we expect to receive that product but is subject to change without notice by the manufacturer or by other unforseen delays.
To determine the diameter of the wheel measure the width of the bead (not the outer rim). From the weld measure to the center of the tire bead on both sides. Add these numbers to find the total. The outer measurement will be the one with the valve stem.
Note: If the rim has a tire on it, usually the tire will have the rim diameter imprinted on it, (8", 9", 10"...) You can also measure the rim from inside using the diagram below and getting the measurements as close as possible.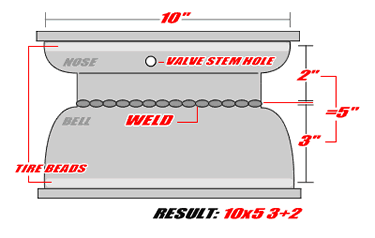 Customer Reviews
Kundenbewertungen