✔️EXTREME LIGHT WEIGHT - Only 0.6 oz per piece which weight is 63% less than the same size steel nut.
✔️SUPER DURABLE - Made of TOP-strength aluminum alloy(7075-T6) with hard anodized black finish and completely CNC machined.
✔️SPECS - 10mmx1.25 thread -Closed End Bulge Acorn Style Lug Nuts, Conical 60 Degree Seat - 17mm Hex Size(2/3" hex) - 1 1/4" long - 6/7" wide.
✔️FITMENT - ATV or UTV with wheel studs requiring a 10mmx1.25 thread and wheels that take a conical 60 degree seat. ⚠️Please check the right size before purchase.
✔️INCLUDES - 16 Black Aluminum Closed End Bulge Acorn Lug Nuts. Shipped in APE RACING retail packaging.
Details:
Type: Tapered Acorn Lug Nuts
Thread: 10mm x 1.25 HEX: 2/3"(17mm)
Length: 1 1/4" Width: 6/7"
Finish: Anodized black
Quantity: 16 pieces
Feature: Extremly light weight Corrosion resistance 60 Degree conical style seat Fit for ATV UTV 4x4 side by side
We offer free standard shipping to 48 contiguous states, Canada and EU. Charged shipping to AK, HI, PR and APO if inventory allows. Charged fast shipping available for 48 contiguous states if inventory allows.
We have a 30-day return policy, which means you have 30 days after receiving your item to request a return.
We currently accept orders to Australia, Austria, Belgium, Bulgaria, Canada, Cyprus, Czech Republic, Denmark, Estonia, Finland, France, Germany, Greece, Holland, Hungary, Italy, Latvia, Lithuania, Luxembourg, Malta, Netherlands, New Zealand, Poland, Portugal, Republic of Ireland, Romania, Slovakia, Slovenia, Spain, Sweden and United Kingdom (Great Britain) on our website. To place an order to any other international address please contact us to place your order.
Normally we don't provide support during weekends, except for urgent cases. In these cases, you only need to mark "Urgent" in your email, we will get back to you ASAP.
We have warehouses in Canada, US and China, so they depend on the stock of different warehouses. Normally it will be delivered in 5-21 days. If you still haven't received the package after that time, please contact us to track it.
The expected in stock date on the product's info page is when we expect to receive that product but is subject to change without notice by the manufacturer or by other unforseen delays.
To determine the diameter of the wheel measure the width of the bead (not the outer rim). From the weld measure to the center of the tire bead on both sides. Add these numbers to find the total. The outer measurement will be the one with the valve stem.
Note: If the rim has a tire on it, usually the tire will have the rim diameter imprinted on it, (8", 9", 10"...) You can also measure the rim from inside using the diagram below and getting the measurements as close as possible.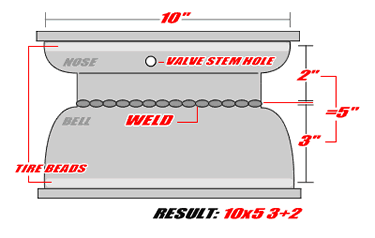 Customer Reviews
Kundenbewertungen