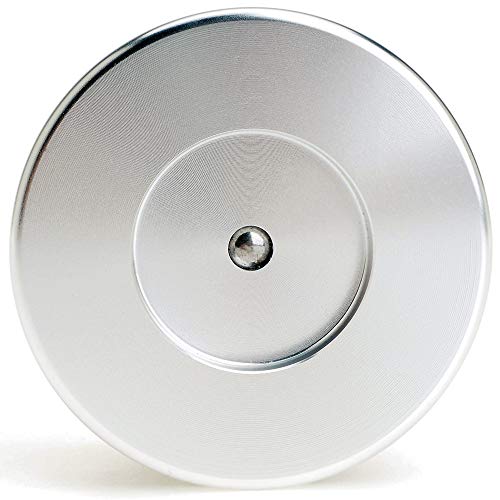 APE RACING Billet Aluminum Stainless Steel Oil Filter for Dirt Bikes Motorcycle Quad ATV Replace KN112 CH6015 15410KF 520101053 3088036 K520101503, Corrosion Resistance Reusable and High Flow
2
sold in last
zuletzt verkauft
8
hours
Std
customers are viewing this product
Kunden betrachten dieses Produkt
✔️HEAVY DUTY - Built by billet aluminum with complete CNC machined and 304 stainless steel micron filter mesh.
✔️HIGH FLOW - Providing consistent flow under extreme conditions like High RPM, Cold Startup and Over Heated.
✔️REUSABLE - Clean filter at each oil change with solvent, contact cleaner, kerosene, or any other degreasing agent, even common dish soap.
✔️RELIABLE AND DURABLE - APE RACING oil filters are designed for tough environment. Each one is construscted by billet aluminum with stainless steel to achieve max life time.
✔️15 MICRON - The particles capture ratio down to 15 microns, which is much better than paper or brass filters.
Details:
Material: Billet Aluminum, Stainless Steel, Nitrile Rubber
Package Including: 1x Oil Filter
Vehicle Fitment:  ALL ADLY 300 Crossover; ALL ADLY 300 Crossroad; ALL ADLY 300 II; ALL ADLY 300 RS; ALL ADLY 300 S; ALL ADLY 300 Sport; ALL ADLY 300 Utility; ALL ADLY 300 XS; ALL ADLY 500 Flat; ALL ADLY 500 S;  ALL DINLI 450 DL902;  ALL HISUN 450 HS ATV-2;  ALL HONDA 250 AX1; ALL HONDA GB400F2; ALL HONDA XLX350; ALL HONDA XR250 Baja;  1993-2018 HONDA XR650L;  2008-2018 KAWASAKI KLX140; 2017-2018 KAWASAKI KLX140G; 2008-2018 KAWASAKI KLX140L; 1990-2018 KAWASAKI KLX250; 2018 KAWASAKI KLX250 Camo; 2008-2018 KAWASAKI KLX450R; 2017-2018 KAWASAKI Z125 Pro; 2014-2018 KAWASAKI Z250 SL;  2015-2017 HONDA CB300F; 2017 HONDA CB300F ABS; 2014-2017 HONDA CBR300R; 2015-2017 HONDA CBR300R ABS;  2002-2017 KAWASAKI KLX110; 2010-2017 KAWASAKI KLX110L;  2013-2016 HONDA CRF250L; 2014-2016 HONDA CRF250M;  2014-2015 KAWASAKI BX250; 2010-2015 KAWASAKI KLX125; 2014-2015 KAWASAKI KLX150L; 2006-2015 KAWASAKI KX450F; 2008-2014 KAWASAKI KFX450R; 2010-2014 KAWASAKI KLX125 D-Tracker; 2006-2014 KAWASAKI KLX250S;  2011-2013 HONDA CBR250R; 2013 HONDA CBR250R ABS; 2008-2011 HONDA TRX700XX;  2009-2010 KAWASAKI KLX250SF;  2009 GAS GAS 510 EC SM;  1998-2009 KAWASAKI BN125 Eliminator; 2000-2009 KAWASAKI KL250 Super Sherpa;  2007-2008 DINLI 450 DL901 DMX; 2008 DINLI 460 DL904 DMX;  2008 GAS GAS EC450 FSR; 2007-2008 GAS GAS Pampera 450;  2003-2008 KAWASAKI KSR110;  2003-2007 GAS GAS EC400 FSE; 2003-2007 GAS GAS EC450 FSE; 2003-2007 GAS GAS Wild HP 450;  2005-2007 HONDA FMX650; 2000-2007 HONDA XR650R;  1996-2007 KAWASAKI KLX300R; 2006-2007  POLARIS Outlaw 500; 2003-2007 POLARIS Predator 500; 2005-2006 DINLI
We offer free standard shipping to 48 contiguous states, Canada and EU. Charged shipping to AK, HI, PR and APO if inventory allows. Charged fast shipping available for 48 contiguous states if inventory allows.
We have a 30-day return policy, which means you have 30 days after receiving your item to request a return.
We currently accept orders to Australia, Austria, Belgium, Bulgaria, Canada, Cyprus, Czech Republic, Denmark, Estonia, Finland, France, Germany, Greece, Holland, Hungary, Italy, Latvia, Lithuania, Luxembourg, Malta, Netherlands, New Zealand, Poland, Portugal, Republic of Ireland, Romania, Slovakia, Slovenia, Spain, Sweden and United Kingdom (Great Britain) on our website. To place an order to any other international address please contact us to place your order.
Normally we don't provide support during weekends, except for urgent cases. In these cases, you only need to mark "Urgent" in your email, we will get back to you ASAP.
We have warehouses in Canada, US and China, so they depend on the stock of different warehouses. Normally it will be delivered in 5-21 days. If you still haven't received the package after that time, please contact us to track it.
The expected in stock date on the product's info page is when we expect to receive that product but is subject to change without notice by the manufacturer or by other unforseen delays.
To determine the diameter of the wheel measure the width of the bead (not the outer rim). From the weld measure to the center of the tire bead on both sides. Add these numbers to find the total. The outer measurement will be the one with the valve stem.
Note: If the rim has a tire on it, usually the tire will have the rim diameter imprinted on it, (8", 9", 10"...) You can also measure the rim from inside using the diagram below and getting the measurements as close as possible.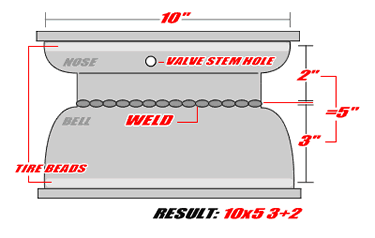 Customer Reviews
Kundenbewertungen